---
Welcome to Season Six!
June 15–Oct. 26, 2014
10am–1pm • Pearl Street, West Acton

---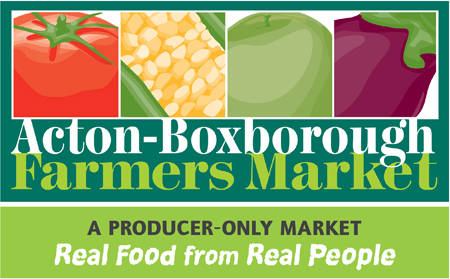 ABFM is a producer-only market
What does that mean? It means that vendors may sell only the produce and/or value-added products that they themselves grow or make. This policy eliminates confusion, provides market-goers with clear information about food sourcing, and promotes integrity in all market standards.
• • • • • • • •
The ABFM is proud to host a variety of farmers and specialty goods producers from our local communities. Each Sunday they gather to bring you the freshest possible goods, including: vegetables, fruits, cheeses, meats, seafood, pasta, honey, breads, flowers, baked goods, bagels, eggs, and specialty products such as local wines, jams, condiments, handmade soaps, and plants for the home garden. The ABFM is a destination event — it features not only wonderful local and organic foods, but also music, the work of area artisans, community organizations and education, and occasional children's activities. The Acton-Boxborough Farmers Market is centrally located in West Acton, just one block from the intersection of Route 111 and Central Street, on tree-lined Pearl Street.
Join us — for real food from real people!