Sunday, August 4

10am–1pm
______________________________________________________
HIGHLIGHTED SPONSOR OF THE WEEK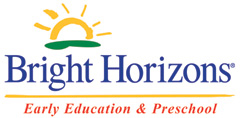 BRIGHT
HORIZONS
at Boxborough

Early Education
and Preschool
Bright Horizons® is the leading provider of high-quality early education and preschool. Our programs empower children from infancy on to become confident, successful learners and secure, caring people. We strive to grow young readers, scientists, artists, and explorers who are engaged and curious. Our programs invite children to approach school and academics with skills, confidence, and a drive for excellence.

20 Codman Hill Road, Boxborough, MA 01719
978.263.6445
Hours: Mon–Fri: 7am–6pm
Email: Boxborough@BrightHorizons.com

www.BrightHorizons.com/Boxborough
______________________________________________________



Love the ABFM?
Most of you will remember the Wizard of Oz's imperative to Dorothy and her three compatriots: "Pay no attention to that man behind the curtain!" The ABFM asks that you pay attention not so much to the people who operate the market, but to the fact that it requires considerable organization and effort to make the market happen and make the ABFM the community institution it has become.
It's enormously fun and gratifying to help bring producers and consumers together to share real food, as well as all the other treats of market day and our occasional special events! If you love the ABFM, consider stepping up to help — the ABFM Leadership Board invites you to get involved! Come see us at the ABFM stall, or send an email to Jenn, our Coordinator. There are opportunities to help on market days, and behind the scenes, on vendor tasks, publicity, special events, etc. Please join us!
______________________________________________________
We Thought You'd Like to Know . . .
"According to a survey conducted by Farmers Markets Today magazine, more than 85% of farmers market vendors traveled fewer than 50 miles to sell at a farmers market in 2008. In fact, more than half of farmers traveled less than 10 miles to their market, according to a 2006 USDA survey. Compare that to other scenarios where seven to fourteen days can go by between the time produce is picked and when it becomes available at a supermarket. In that interval, fruits and vegetables can travel, on average, more than 1,200 miles before reaching the final consumer. Since studies have shown that produce loses nutritional value as more time elapses from the time of harvest, locally grown produce available at farmers markets is available to you at the peak of freshness and nutrient availability."
Source: http://farmersmarketcoalition.org/joinus/faq
FYI: Most 2013 ABFM vendor farmers come from between 10 and 20 miles from Acton; one comes from 25 miles and one from 60.
______________________________________________________
Special SNAP Offer

The ABFM accepts SNAP (Supplemental Nutrition Assistance Program) benefits. The market is a great place to use SNAP: by shopping for the freshest produce (which lasts longer in the fridge), you get terrific nutritional bang for your buck. The ABFM is sponsoring a special offer for SNAP users: we'll double the value of the first $10 you spend in SNAP benefits at market. So if you decide to spend $15 at market, you'll actually get $25 to spend. [This offer lasts until we distribute the allotted $400 for the season.] Come to the ABFM stall at market for details!
______________________________________________________


"LIKE" US ON FACEBOOK!



______________________________________________________

SEASONAL VENDORS

APPLEFIELD FARM • BAGEL ALLEY • CLEARVIEW FARM • DRAGONFLY FARMS • FLATS MENTOR FARM • LILAC HEDGE FARM • MAMADOU'S ARTISAN BAKERY • MONADNOCK BERRIES/HILL ORCHARD • SAMIRA'S HOMEMADE • STILLMAN'S FARM • STOW GREENHOUSES
Learn more about the ABFM 2013 Vendors here. (Please note that Flats Mentor Farm's start date is TD, because of extensive farmland flooding. We wish them dry days and a speedy recovery!)


SUNDAY'S ADDITIONAL VENDORS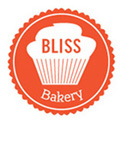 Bliss Bakery
Everyone Deserves a Little Bliss
Bliss Bakery is an artisan bakeshop specializing in handcrafted breads, pastries, and custom cakes. Choose from our wide selection of delicious baked goods made from scratch, using only the finest ingredients. Groton, MA

Coastal Vineyards
Fine Creative Wines
Offering red and white wines, dry and sweet, from 12 grape varieties grown on its eight-acre Dartmouth vineyard, Coastal features Chardonnary, Pinot Gris, Riesling, Merlot, Cabernet Franc, and others. Dartmouth, MA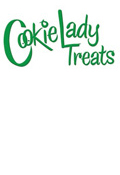 Cookie Lady Treats
Baked Especially for You
The Cookie Lady specializes in unique flavors of gourmet cookies, with over 40 varieties, including Blueberries & Cream and Pina Colada, and offers rich, homemade brownies, homemade marshmallows, s'mores, candy bars, French macaroons, and sticky buns. Maynard, MA

Farmer Tim's Vegetables
Delicious, Sustainably Grown Vegetables
Farmer Tim, a New Entry Sustainable Farming Project farmer, brings to market his tomatoes, peppers, zucchini, cucumber, lettuces, sweet potatoes, beans, kale, cabbage, chard, broccoli, and herbs. Belmont, MA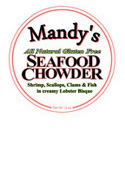 Fishwives Specialty Foods
Not for Wimpy Chowdaheads!
Mandy's offers handcrafted, all-natural, gluten-free seafood chowders and bisques, vegetable and fruit gazpachos, and dips and spreads. We source as much sustainable seafood from from New England as possible, and our gazpachos are made with produce from local farms. Marblehead, MA
www.WickedChowdah.com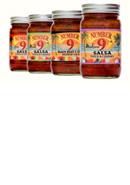 Paino Organics
Natural & Organic Foods
Paino Organics creates its Number 9 line of tortilla strips and salsas in nearby Concord. Each salsa variety is made with at least nine healthful vegetables, lime juice, and four or five varieties of peppers for well-rounded, and unique flavors. Paino salsas use no vinegar, added sugar, or fat, and are vegan, and wheat- and gluten-free. Concord, MA
www.PainoOrganics.com

______________________________________________________
THIS WEEK'S ARTISAN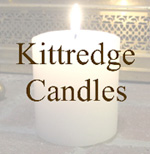 KITTREDGE CANDLES
Candles are 100% pure soy in jars, tins, tarts, and tea lights, as well as votives, novelty candles, soaps, all-natural goat's milk lotions, and gift sets. All are handmade and available in more than 150 fragrances. Andover, MA
______________________________________________________
UNDER THE PERFORMANCE CANOPY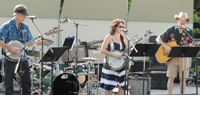 ONE GREAT ROAD
One Great Road is a homegrown acoustic group that plays folk, Americana, original songs, and the good old Grateful Dead. Members hail from Harvard and Acton, MA
11am–12:45pm

______________________________________________________
Closing the Loop . .

. Please bring to the ABFM table at market any (clean) containers you've acquired during your ABFM shopping, including green paperboard boxes, and paper and plastic bags. We'll make them available to our vendors for re-use when appropriate.

Come on down — for Real Food from Real People!