Sunday, July 14

10am–1pm
______________________________________________________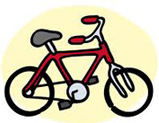 Next Week: July 21 =
Bike-to-Market Day!
(Fossil Fuel–Free Shopping Day)
Get those bicycles, skateboards, and scooters ready to come to ABFM free of fossil fuels! On July 21, the ABFM will offer to each of the first 50 riders of such gizmos $2 in ABFM Market Moolah to be spent at market — on Sunday only! Come to the ABFM table to show us your carbon emissions–free transport, and then park it at one of the bike racks in front of the West Acton Citizens' Library. (And please, whenever you ride your bike to market, park it at a bike rack rather than on Pearl Street.) Bike-to-Market Day: a win-win-win proposition, for you, for the environment, and for local farmers and producers!
______________________________________________________

Housekeeping: Do Not Reply, Please
If you want to contact someone on the ABFM board about anything, please DO NOT REPLY to this (or any other) eblast. Replies to our eblasts do not go to a managed email account/address. You can readily find email addresses of folks who oversee the various aspects of the market by visiting the ABFM website. Thanks for your cooperation!
______________________________________________________
Dogs at Market
Most of the pets who come to market are well behaved, but recently there have been a couple of "dog vs. dog" moments on Pearl Street. Many dogs do, but some don't handle the density, stimulation, and close quarters of the market well; please evaluate your dog's capacity for such situations before bringing him/her to market. ABFM rules require that pets: (1) be restrained from contact with food items, (2) not "do their business" in market environs, and (3) be under owner physical control at all times. (Please note that retractable leashes MUST be locked at a short length while pets are on Pearl Street). And parents: please stay with your children at all times, and teach them not to touch pets unless they ask first. Thank you for your cooperation; we want the market to be a safe and enjoyable experience for everyone — human and otherwise!
______________________________________________________
Special SNAP Offer

The ABFM accepts SNAP (Supplemental Nutrition Assistance Program) benefits. The market is a great place to use SNAP: by shopping for the freshest produce (which lasts longer in the fridge), you get terrific nutritional bang for your buck. The ABFM is sponsoring a special offer for SNAP users: we'll double the value of the first $10 you spend in SNAP benefits at market. So if you decide to spend $15 at market, you'll actually get $25 to spend. [This offer lasts until we distribute the allotted $400 for the season.] Come to the ABFM stall at market for details!
______________________________________________________

"LIKE" US ON FACEBOOK!



______________________________________________________

SEASONAL VENDORS

APPLEFIELD FARM • BAGEL ALLEY • CLEARVIEW FARM • DEBORAH'S KITCHEN • DRAGONFLY FARMS • FLATS MENTOR FARM • LILAC HEDGE FARM • MAMADOU'S ARTISAN BAKERY • MONADNOCK BERRIES/HILL ORCHARD • SAMIRA'S HOMEMADE • STILLMAN'S FARM • STOW GREENHOUSES
Learn more about the ABFM 2013 Vendors here. (Please note that Flats Mentor Farm's start date is TD, because of extensive farmland flooding. We wish them dry days and a speedy recovery!)


SUNDAY'S ADDITIONAL VENDORS





Bev's Bakery
A 100% Vegan Bakery
Bev's offers delectable cupcakes, cakes, muffins, brownies, and breads made from scratch, with vegan ingredients that are organic, non-GMO, and from local farmers markets whenever possible. Townsend, MA

Evergeen Ice Cream
Delicious Ice Cream, Quality Ingredients
Evergreen Ice Cream focuses on natural ingredients and fun, unique flavor combinations, many of which — we promise — will surprise you and your taste buds. Framingham, MA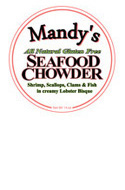 Fishwives Specialty Foods
Not for Wimpy Chowdaheads!
Mandy's offers handcrafted, all-natural, gluten-free seafood chowders and bisques, vegetable and fruit gazpachos, and dips and spreads. We source as much sustainable seafood from from New England as possible, and our gazpachos are made with produce from local farms. Marblehead, MA

La Bella Dolce Bakery
Delicious Baked Goods
From My Home to Yours
This Italian artisan bakery creates elegant pastries, breads, and breakfast delicacies freshly baked for market with local fruits, berries, vegetables, and honey, as well as several whole grains and organic ingredients. Westford, MA




Turtle Creek Winery
Classic Wines from Noble Grapes
Turtle Creek is a boutique winery, located in the shadow of Boston, producing only 1200 cases of world-class wine annually.
Lincoln, MA
www.TurtleCreekWine.com

______________________________________________________
THIS WEEK'S ARTISAN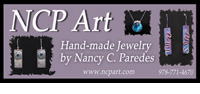 NCP ART
Silver and Glass Jewelry
by Nancy C. Paredes
Nancy works in sterling silver, PMC (Precious Metal Clay), copper, and glass, and features her extensive jewelry collection at ABFM. Much of her work is inspired by the wide array of color in both natural stones and fused glass. She offers one-of-a-kind rings and pendants, and accepts custom orders. Her work and teaching schedule can be viewed at her website. Chelmsford, MA
______________________________________________________
UNDER THE PERFORMANCE CANOPY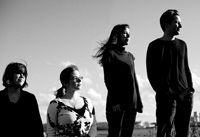 WALTER RODRIGUEZ
& THE NIGHT OWLS
Walter & the Night Owls is a Boston-based folk alternative band featuring acoustic guitar, violin, cello, and vocals. Some of their songs have been featured in films (e.g., "Shades of Ray," starring Zachary Ley [NBC]), while others have been licensed to MTV2 and other international media outlets. Somerville, MA
11am–12:45pm
______________________________________________________
Closing the Loop . .

. Please bring to the ABFM table at market any (clean) containers you've acquired during your ABFM shopping, including green paperboard boxes, and paper and plastic bags. We'll make them available to our vendors for re-use when appropriate.

Come on down — for Real Food from Real People!