Sunday, September 30

10am–1pm
______________________________________________________
HIGHLIGHTED PARTNER OF THE WEEK
THE LOCAL TABLE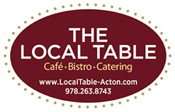 The Local Table is a breakfast and lunch café weekdays, and a bistro Thurs–Sat evenings and all day Sat for brunch. Brunch features: Brioche French toast, homemade corned beef hash and eggs, special omelets, waffles, pressed sandwiches, and more. Bistro dinners highlight a seasonal menu of appetizers, salads, entrées, "Best in Acton," all-natural burgers, and desserts. Taste our craft beers (16+, most local to New England) and wines by the glass; hear great music most Saturday evenings; inquire about catering; and/or reserve our dining room for celebrations and nonprofit/community events.

251 Arlington Street, West Acton, MA 01720 • 978.263.8743
HOURS: Mon–Fri 7:30am-3pm; Thurs, Fri & Sat 5:30pm–9pm; Saturday 9am–3pm; Closed Sunday
______________________________________________________

Special SNAP Offer
The ABFM accepts SNAP (Supplemental Nutrition Assistance Program) benefits and makes a special offer for SNAP users: we'll double the value of the first $10 you spend in SNAP benefits at market. If you decide to spend $15 at market, you'll actually get $25 to spend. [This offer lasts until we distribute the allotted $250 for the season.] Come to the ABFM stall at market for details!
______________________________________________________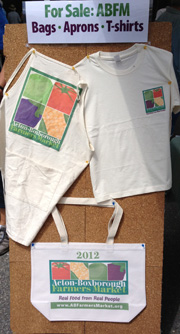 ORGANIC ABFM T-SHIRTS, RECYCLED COTTON ABFM BAGS, AND AWESOME ABFM APRONS!
Check out our first-ever organic cotton ABFM T-shirts! Show your ABFM pride with one of these SO-soft shirts, available in sizes from 2T to XXL.
Our beautiful 2012 ABFM bags and handy ABFM aprons are also ready for you to snap up. And consider an ABFM Gift Certificate in any denomination for family and friends. Stop by the ABFM stall at market for any and all of these treats!
______________________________________________________
Community Events Board at ABFM
Anyone is welcome to post a flyer or notice about a local community event on the Community Events Board at the corner of Pearl Street and Windsor Avenue, on the WAC Library lawn. (Please, no business cards or flyers, work solicitations, et al.; market staff will remove any inappropriate postings.) All notices will be removed and recycled at the end of each market day.
______________________________________________________

"LIKE" US ON FACEBOOK!

______________________________________________________

SEASONAL VENDORS

APPLEFIELD FARM • BAGEL ALLEY • BURROUGHS FARM • DRAGONFLY FARM • FLATS MENTOR FARM • MAMADOU'S ARTISAN BAKERY • MONADNOCK BERRIES/HILL ORCHARD • NOBSCOT ARTISAN CHEESE • SAMIRA'S HOMEMADE • STILLMAN'S FARM • TWIN SEAFOOD
Learn more about the ABFM 2012 Vendors here.


SUNDAY'S ADDITIONAL VENDORS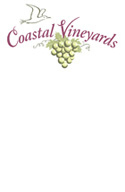 Coastal Vineyards
Fine Creative Wines
We grow 12 grape varieties on our eight-acre vineyard, producing white and red wines, and both dry and sweeter wines. All of our varieties — Chardonnay, Pinot Gris, Pinot Noir Rosé, White Wave, Riesling, Gewurztraminer, Merlot, Cabernet Franc, and others — are made at our farm winery. Dartmouth, MA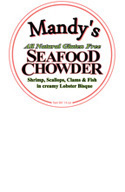 Fishwives Specialty Foods
Not for Wimpy Chowdaheads!
Mandy's famous Seafood Chowder is back! Handcrafted all-natural, gluten-free seafood chowders and bisques, vegetable and fruit gazpachos, and dips and spreads. We source as much sustainable seafood from from New England as possible, and our gazpachos are made with produce from local farms. Marblehead, MA

Herb An' Chicks
Pesticide- and herbicide-free culinary herbs, plants, and cooking oils; medicinal herbs, teas, and tinctures; free-range chicken, duck, and goose eggs; Eco-ganically grown fruits and vegetables; and pastured roaster chickens. Westford, MA

Joanna's New World Biscotti
This specialty, small-batch bakery offers an updated, highly flavorful take on an Old-World-style, European cookie, using pure butter, whole eggs, and real chocolate. These confections are a delectable treat worth giving or keeping. Westford, MA



Mill River Winery
Our renovated 1890s cider mill is home to our orchard, vineyard, and the winery where all our wine is produced. Our winemaking style focuses on preserving the signature flavor of each varietal. Rowley, MA
www.MillRiverWines.com




Pat-O's Pickles
Hand-packed, small-batch pickled vegetables, using only the finest ingredients sourced primarily from farms across New England. Groton, MA
www.PatOsPickles.com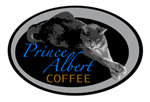 Prince Albert Coffee
Prince Albert Coffee offers the great coffee beans and nuanced roasts we've been enjoying ourselves for the last six years. We source hand-selected beans from family farms and coffee co-ops that grow, pick, and process the best coffee beans in the world. We roast our coffees to complement the distinctive flavors in each bean, and bring to market only what we've roasted in the last 24 hours. Berlin, MA
www.PrinceAlbertCoffee.com

______________________________________________________
THIS WEEK'S ARTISAN

RAY PARADISO
Ray paints landscapes and seascapes, often based on photos of scenes from New England and other parts of the country. He works with acrylics on stretched canvas or canvas panel, and has recently been working with "open" acrylics. Acton, MA
______________________________________________________
UNDER THE PERFORMANCE CANOPY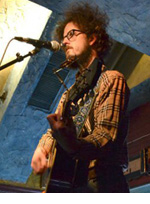 IAN FITZGERALD
Ian Fitzgerald is a singer and songwriter of folk music. He has played throughout the Northeast, touring from Nova Scotia to Delaware, has been named an "Emerging Artist" by the Falcon Ridge Folk Festival, and has won the Boston Folk Festival songwriting contest. Ian has independently released three CDs and is at work on a fourth. Arlington, MA
11am–12:45pm
www.IanFitzgerald.com

______________________________________________________
THE COMMUNITY TABLE
ACTON VOLUNTEER COORDINATING COMMITTEE (VCC)
The Acton VCC recruits and vets prospective volunteers for Town of Acton committees. Learn about the many ways to get involved in the life and governance of our community. The VCC will have Town reports, as well as volunteer applications on hand. Acton, MA
www.Acton-MA.gov/index.aspx?NID=111
______________________________________________________
Closing the Loop . .

. Please bring to the ABFM table at market any (clean) containers you've acquired during your ABFM shopping, including green paperboard boxes, and paper and plastic bags. We'll make them available to our vendors for re-use when appropriate.

Come on down — for Real Food from Real People!