Sunday, November 20

10am–1pm

FIRST-EVER ABFM
PRE-HOLIDAY MARKET!

at the (newly renovated) Windsor Building
Windsor Avenue & Pearl Street
Many of our 2011 season vendors will participate (see below), providing fresh produce (yes, still!), jams, bagels, nuts, pasta, breads, cheese, meats, seafood, chowders, local wines, and baked treats.
Come by for holiday delights for your table, your libations, your decor, and your gift giving. Remember that ABFM gift certificates (for any amount) make a wonderful gift for family and friends: an invitation to great, fresh, local food any time during the next ABFM market season!
Get your last hit of ABFM until next Spring. It may be chilly on Sunday, but come warm up with a cup of hot cider from ABFM. We'll be there, rain or shine — or snow!
• • • • • • • • • • • • • • • • • • •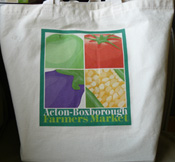 HOLIDAYS ARE AROUND THE CORNER. CONSIDER ABFM ITEMS FOR YOUR GIFT GIVING: GIFT CERTIFICATES, APRONS, AND TOTE BAGS!

SPECIAL FOR 11/20: ABFM BAGS ONLY $5!

GIVE THE GIFT OF GREAT LOCAL FOOD!
The ABFM now has available ABFM Gift Certificates in any denomination you'd like. Stop by the ABFM table and do a great thing for family, friends, or colleagues — an ABFM Gift Certificate.
_______________________________________________________

NOV. 20 PRE-HOLIDAY MARKET VENDORS
BAGEL ALLEY
Bagels are made from scratch and baked fresh every day. Look for plain, cinnamon raisin, pumpernickel, health, wheat, egg, spinach and herb, poppy seed, sesame seed, onion, and "everything" bagels.
Nashua, NH


BURROUGHS FARM
Burroughs raises chemical-free vegetables and grains at its 1848 farm, which is protected permanently for agricultural uses.
Boxborough, MA


CAPE COD ORIGINAL
Where Great Flavor and Good Health Meet!
Cape Cod offers all-natural, gluten-free chowders, seasonal vegetable/fruit gazpachos, dips, and spreads. Much of their seafood is sourced from New England fishermen, and their gazpachos are made with seasonal produce from local farms.
Osterville, MA


DEBORAH'S KITCHEN
Deborah's offers jams and preserves using two-thirds fruit, all-natural sugar, and no preservatives, whereas most manufacturers use two-third refined sugar or high-fructose corn syrup. Multi-fruit blends make gourmet treats.
Littleton, NH


FASTACHI
Artisan-Roasted Nuts
Discover Fastachi nuts, hand roasted in small batches and seasoned only with sea salt. Also, Fastachi nut mixes, and nut butters ground fresh from the Fastachi Nut.
Watertown, MA


FOXBARN FARM
Foxbarn Farm specializes in fresh-picked garden vegetables and herbs grown locally with IPM practices. Building on 40 years of home gardening experience, Foxbarn Farm has been active in Middlesex County farmers markets since 2004.
Carlisle, MA


GOURD & PLENTY FARM
This small-scale farm offers organically grown (i.e., no spray) produce, including 20 varieties of heirloom winter squash and other fine vegetables. Recipes for winter squash and ground (husk) cherries will be available to help launch new culinary adventures.
Ayer & Dracut, MA


GREEN RIVER AMBROSIA
This small artisanal meadery makes the finest honey wines with local raw honey, water, raw honey, yeast, and the occasional local and/or organic herb or fruit. Green River Ambrosia meads provide the taste of a season of hard work by our bee friends. Crafted with love and care, all meads are sulfite and gluten free.
Greenfield, MA


HAMES & AXLE FARM
Goat milk soaps have long been valued for their gentleness and hydration. Nigerian dwarf goat milk is extra high in fats and protein, making for a luxurious bath experience. We use only natural ingredients — no artificial fragrances and no unnecessary additives.
Ashburnham, MA


JEDERMANN BAKERY
Jedermann Bakery is an artisan bakeshop specializing in European breads, pastries, and custom cakes. Choose from our wide selection of delicious baked goods, made with only the finest ingredients, to find something perfectly suited to your needs.
Groton, MA


JOANNA'S NEW WORLD BISCOTTI
Joanna's offers an updated, highly flavorful take on an Old-World-style, European cookie. We use the same ingredients that make homemade cookies delicious, such as pure butter, whole eggs, and real chocolate. These crunchy confections are a delectable treat worth giving or keeping!
Westford, MA


LAWTON'S FAMILY FARM
Home of Foxboro Cheese and Oake Knoll Ayrshires
A Massachusetts Century Farm, Lawton's makes cheeses from their own grass-based dairy. Try their fresh cheese, Fromage Blanc, and raw-milk Asiago.
Foxborough, MA


MAMADOU'S ARTISAN BAKERY
Mamadou's bakes true artisan bread. Our inspiration comes from around the world. Savoring all the varieties of our delicious breads will transport you to France, Italy, and beyond!
Winchester, MA


NELLA PASTA
Locally Handcrafted, Wholesome & Simple
The Notion of Nella — an oh-so-simple idea: to make pasta using only ingredients from neighboring farms. Our name in Italian means "in the" because what goes in the pasta means everything to us. We use only what's in season, picked fresh and grown with organic practices.
Jamaica Plain, MA


STILLMAN'S FARM
A small, artisan family farm, Stillman's is dedicated to producing conscientiously raised, grass-fed and pastured, chemical-free meats, poultry, and eggs. Raised in the small-farm tradition, our meats and poultry are better tasting, more nutritious, and raised in a sustainable manner that is respectful of both the land and the animals.
Hardwick, MA


STILL RIVER WINERY
Still River makes traditional Apfel Eis, or apple ice wine, from local varietal apples — more than 80 apples are used in each 375 ml bottle. Sweet, with a gentle bite and a clean finish.
Harvard, MA

Learn more about ABFM 2011 Vendors here.
• • • • • • • • • • • • • • • • • • •
SNAP AT THE ABFM

ABFM now accepts EBT/SNAP benefits. Please come to the ABFM stall at market to learn more, and/or check out our website SNAP page.


• • • • • • • • • • • • • • • • • • •
As our 2011 season draws to a close, it's time for us to offer our appreciation for the many people who make the ABFM possible.

We especially thank our market volunteers (many of whom are Acton-Boxborough high school students), who help set up and break down the market infrastructure each week of the season.
Big thanks to ABFM coordinators:
Kennett Coleman, Kids' Activities
David Gerratt, Performers
Laraine Lippincott, Artisans
Clare Siska, Community Table Organizations
• • • • • • • • • • • • • • • • • • •
Genuine thanks go out to our ABFM Partners and Sponsors; your commitment to our shared community and its vitality is recognized and greatly appreciated!
A shout-out to our Vendors: you are the backbone of the ABFM!
Thank you to Janet Armstrong, for her generous help with production of our new banners.
Mondo gratitude goes to Tom Campbell, for his construction of the awesome shelves in the ABFM storage shed, and for a million other tasks he does quietly, efficiently, and so well.
Thanks to Dia Chigas for market manager assistance.
Appreciation is due to Jennifer Friedman, the West Acton Citizens' Library, and library volunteers for being an integral part of the ABFM effort.
And for logistics, parking, and/or other kindnesses:
ABFM Abutters — the Spero, Watt, and Friedrichs/Lenichek families
Acton Board of Selectmen
Acton Town Manager Steve Ledoux
Acton Director of Municipal Properties Dean Charter
Acton Police, Fire, and Highway departments
Carquest Auto Parts
Christian Science Society
Middlesex Savings Bank, West Acton Branch
West Acton Post Office
• • • • • • • • • • • • • • • • • • •
Closing the Loop . . .
Please bring to the ABFM table at market any (clean) containers you've acquired during your ABFM shopping, including green paperboard boxes, and paper and plastic bags. We'll make them available to our vendors for re-use when appropriate.
Come on down — for Real Food from Real People!