MARKET HOURS: 10am–2pm

---
ABFM Highlighted Partner of the Week



Village Art Workshop
Accessible arts & crafts for everyone!
Village Art offers classes for all ages, vacation programs, affordable walk-in projects, creative birthday parties, and events like Mom's Night Out. We have a class to fit everyone, from preschool crafts to boys' projects to pre-teen jewelry to adult needle felting. Stop in to see all we offer!
541 Massachusetts Avenue
West Acton, MA 01720
P 978.635.9944
Email: info@VillageArtWorkshop.com
Summer Hours:
Mon–Fri: 9am–4pm; Sat: 10am–2pm (Sat & Sun parties by appt.)
School Hours:
Mon–Fri: 9am–5pm; Sat: 10am–5pm (Sat & Sun parties by appt.)
• • • • • • • • • • • •

Closing the Loop . . .
Please bring to the ABFM table at market any (clean) containers you've acquired during your ABFM shopping, including green paperboard boxes, and paper and plastic bags. We'll make them available to our vendors for re-use when appropriate.
• • • • • • • • • • • •
Wanna Win Market Moolah?
This week you'll likely receive the Acton Neighborhood Guide in your mailbox (if you live in Acton, Boxborough, Concord, or Littleton). Cut out our ABFM ad and bring it to market this Sunday or next, 10/3, to be entered in our 10/3 drawing for $25 in ABFM Market Moolah to spend at the market!

• • • • • • • • • • • •

To learn more about our vendors, performers, artisans, or community table organizations, please visit ABFarmersMarket.org.

---
PER-DIEM VENDORS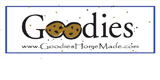 GOODIES • Belmont, MA
Our decadent cookies come in 10 flavors, ensuring a favorite for the most discriminating cookie lover. Gift-boxed cookies are shipped nationwide. Remember, a balanced diet is a cookie in each hand!
http://GoodiesHomemade.com

GOURD & PLENTY FARM • Ayer & Dracut, MA
New farmers Beth and Takashi operate a small-scale farm featuring organically grown (i.e., no spray) produce, including 20 varieties of heirloom winter squash and other fine vegetables. Recipes for winter squash and ground (husk) cherries will be available to help launch new culinary adventures.
Email: GourdandPlenty@gmail.com

PERFORMER
HELP DEMOLISH BARBIE • Acton, MA
Folk and Rock
Vocalist Hannah Hoffman and guitarist Ilana Held = Help Demolish Barbie. The teen duo has written more than 40 songs in the past three years and often performs, with a drummer and bassist, as Redfish Bluefish. 11:15am–12:15pm
www.myspace.com/HelpDemolishBarbie

ARTISAN
CAVE MADE POTTERY • Acton, MA
Stoneware and porcelain handmade pottery, including bowls, trays, mugs, and tiles.
www.CaveMadePottery.com

COMMUNITY TABLE
THE WATER SUPPLY DISTRICT OF ACTON • Acton, MA
The Water District works to supply the town with clean water for its needs. Staff will be on hand with information on water quality and conservation, as well as a display on conservation devices available off-site to residents.
www.ActonWater.com

kids' activity
FOOD DETECTIVES!
Elena Samadar Volkova of Vibrant Nutrition, Guest Presenter
Elena will teach kids how to be Food Detectives! Why does what we eat matter? They'll learn about ingredients lists and what's good and not-so-good, and get jazzed about healthful eating habits. (Suitable for reading children.)
THANK YOU . . .
to the West Acton businesses that support the ABFM through provision of auxiliary parking each Sunday:
Carquest Auto Parts
Christian Science Society
Middlesex Savings Bank
Savoury Lane
. . . and the Town of Acton

WHILE YOU'RE AT THE MARKET . . .
Check out our education Topic of the Week board — always rich with information on food, agriculture, environment, and/or building sustainable communities.
AND
Please support the operation of the ABFM through purchase of our delightful and useful
ABFM BAGS & APRONS
& BUMPER STICKERS!

• • • • • • • • • • •
•
• • • • • • • • • • •
•
Come on down —
for Real Food from Real People!