JUNE MARKET DAY
This Sunday, June 19!

10am–1pm
Join us this Sunday. Yes, it's Father's Day. Bring Dad along, or come yourself and let him sleep! The growing season is in gear; you'll enjoy the freshest veggies and fruits, the pleasures of community gathering, and live music. Not to mention: plants for the garden, seafood, cheeses, pasta, eggs, breads, meats, bagels, nuts, soaps, and specialty goods!
Show up a few minutes before the 10am opening bell to hear State Senator James Eldridge's remarks about new Massachusetts legislation that makes possible the sale of Massachusetts wines at farmers markets, and its impacts on the state's agricultural economy. And check out our local Mead and Apple Ice Wine vendors!


TO WHET YOUR APPETITE

A list of Sunday's Vendors:
Bagel Alley, Burroughs Farm, Deborah's Kitchen, Dragonfly Farms, Fastachi, Foxbarn Farm, Green River Ambrosia, Hames & Axle Farm, Joanna's New World Biscotti, Lawton's Family Farm, Mamadou's Artisan Bakery, Monadnock Berries, Nella Pasta, Rob's Gardens, Stillman's Farm, Still River Winery, and Twin Seafood. Learn more about the ABFM 2011 Vendors here.

UNDER THE PERFORMANCE CANOPY
Chatty Maddie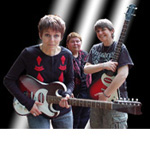 Listen to this three-woman, original indie/pop/rock group based north of Boston, and you'll find your toes and/or fingers doing a little tap dance. Chatty Maddie offers fun, quirky, catchy, and sometimes silly tunes that may just get stuck in your head . . .
11am–12:45pm
Acton, MA



REGULAR ABFM MARKET SEASON OPENS JULY 10!
Note our new market hours, 10am–1pm, every Sunday, July 10 through October 23! For more information, see our website.

Closing the Loop . . .
Please bring to the ABFM table at market any (clean) containers you've acquired during your ABFM shopping, including green paperboard boxes, and paper and plastic bags. We'll make them available to our vendors for re-use when appropriate.
Come on down — for Real Food from Real People!