Sunday, November 22:
2020 Holiday Market!
10am–1pm

ABFM: promoting good food, supporting sustainable agriculture, and building community since 2009

---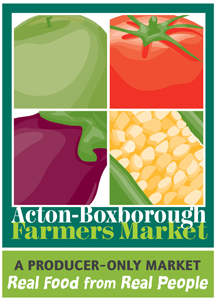 2020 Holiday Market
at the Elm Street Playground
West Acton


LAST CHANCE to stock up for your celebrations,
snag stuff from your favorite vendors, and get
a leg up on gift giving for the coming holiday
season! Offering the ABFM vibe you love and
a terrific array of vendors:


Cookie Lady Treats* • Doris' Peruvian Pastries

Griffin Hall Farms* • Habibi Gourmet Foods*

Jamboleo Jams* • Jennifer's Handmade Soaps*

Laszlo Family Farm's Sitzens Pet Products

Lilac Hedge Farm* • Nutty Bird Granola*

Purple Carrot Bread Company* • Sa's

Homestyle* • Small Farm* • Snowplace Farm

Valicenti Pasta Farm*
---
*Vendors Accepting Pre-orders
Many of our vendors are accepting pre-orders to be picked up at the Holiday Market. To see details specific to each vendor, please visit the vendor page on our site.
---
See you at the Holiday Market!