Sunday, November 21:
2021 Holiday Market!
10am–1pm

ABFM: promoting good food, supporting sustainable agriculture, and building community since 2009

---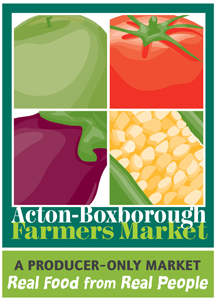 2021 Holiday Market
at the Elm Street Playground
West Acton


LAST CHANCE to stock up for
your celebrations, snag stuff
from your favorite vendors,
and get a leg up on gift giving for the coming
holiday season! Offering the ABFM vibe you love
and a terrific array of vendors and artisans:
Cookie Lady Treats • Doris' Peruvian Pastries

Forestopia Farms • Griffin Hall Farms

Jamboleo Jams • Jennifer's Handmade Soaps

Joyberry Farms • Laszlo Family Farm's Sitzens

Pet Products • Lilac Hedge Farm • Meadowbrook

Orchards • Nutty Bird Granola • Sa's Homestyle

Small Farm • Valicenti Pasta Farm • Shayna's

Handmade Handbags • Dominique Lecomte

Virginia Wood
---
See you at the Holiday Market!