Sunday, July 29
10am–1pm

ABFM: promoting good food, supporting sustainable agriculture, and building community since 2009

---
Announcing:
Our 10th anniversary
celebration event!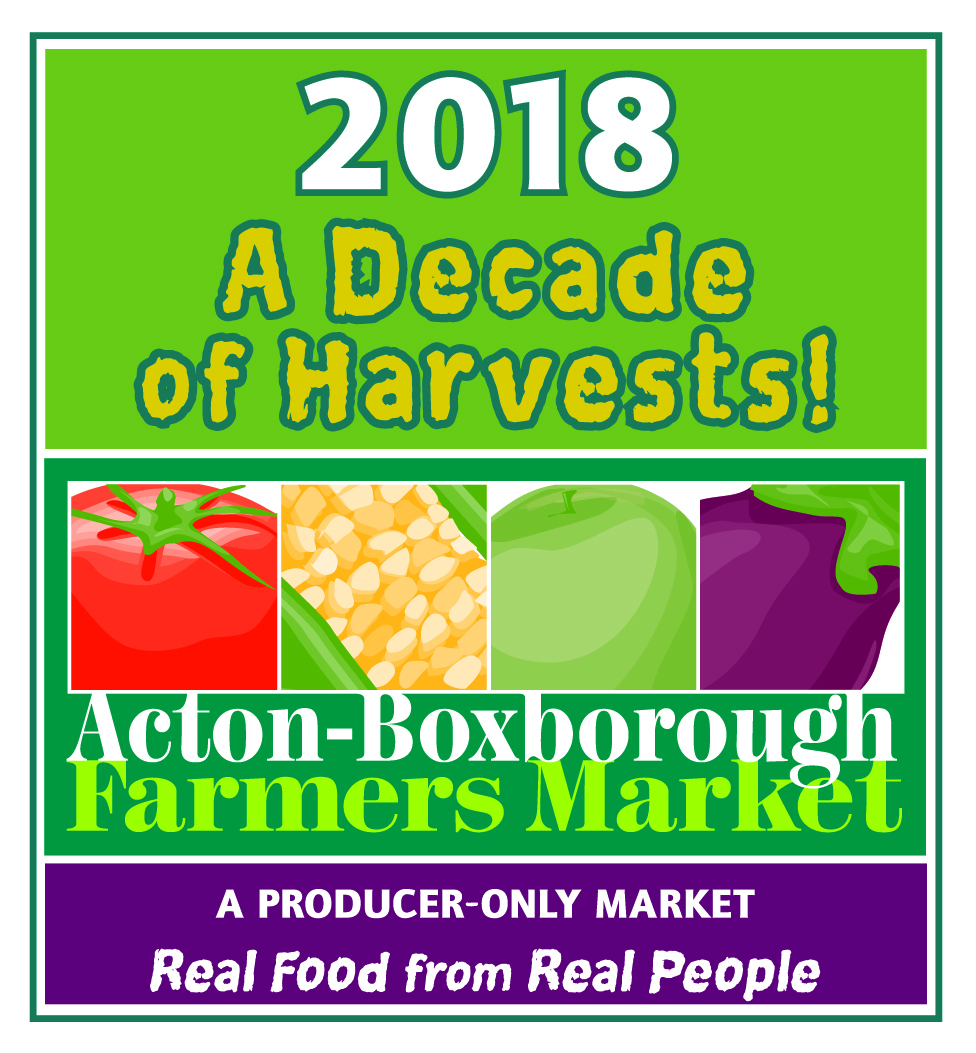 ABFM 2018:
A Decade of Harvests!
Celebrating 10 years of promoting
good food, supporting sustainable
agriculture, and building community


Saturday, Sept. 22 • 5–7:30pm
NARA Park Pavilion • 25 Ledge Rock Way • Acton
The al fresco evening will feature ample, artisanal hors d'oeuvres and desserts, local beers and sustainably grown wines, guest speakers, music by RD King, and the good vibe for which the ABFM is known — all in beautiful NARA Park!

We hope you'll join us for this special evening!


FOR MORE INFORMATION AND TICKETS: 

www.ABFarmersMarket.org/10th-event

---
THIS SUNDAY ONLY: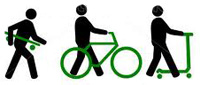 WHEELS TO MARKET DAY!
Come to market free of fossil fuels!
This Sunday:
• come to the ABFM table to show us your wheeled transport
   (bike, scooter, skates, skateboard)
• park it at one of the bike racks at the West Acton Citizens'
   Library
• collect your $2 Market Moolah and spend it with any ABFM
   vendor SUNDAY ONLY!
(Offer good for the first 50 riders of such gizmos.) Wheels to Market Day: a win-win-win proposition, for you, for the environment, and for local farmers and producers!
---
2018 SEASONAL VENDORS
Applefield Farm • Bagel Alley • Flats Mentor Farm • Habibi's Gourmet Foods • Laszlo Family Farm's SITZENS Pet Products • Lilac Hedge Farm • Mamadou Artisan Bakery • Moonlight Farm • Snowplace Farm • Stillman Quality Meats • Valicenti Pasta Farm • Westward Orchards
LEARN MORE ABOUT THE ABFM 2018 VENDORS HERE.

---
HIGHLIGHTED SEASONAL VENDOR
JACOB'S ALL SEASONS FLOWERS
Offering cut flower bunches, bouquets, and arrangements; bedding plants and hangers; succulents; and seasonal fall gourds.
470 Leominster Road, Lunenburg, MA
978.470.9813
Email: ssj152@aol.com
---
TODAY'S ADDITIONAL VENDORS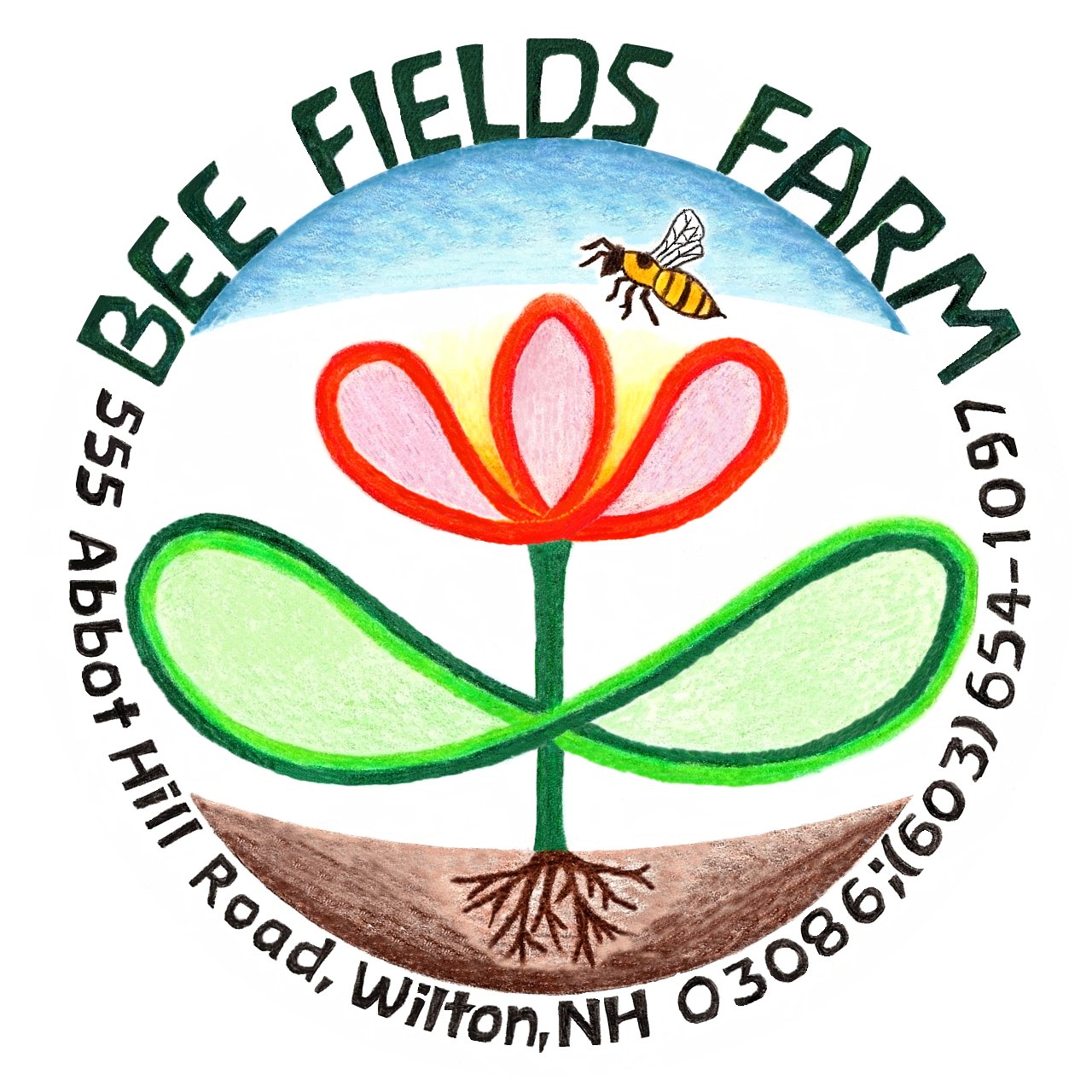 BEE FIELDS FARM
Bee Fields Farm medicinal garden contains more than 100 different herbs. All the flowers and shrubs planted in our garden have been planted for their medicinal, edible, or pollination uses. We use organic and biodynamic gardening practices to enhance and enrich the fertility of our beautiful garden. Our preparation process is very simple: we harvest, strip, sort, clean, infuse, pour, pack, and label our products by hand. Wilton, NH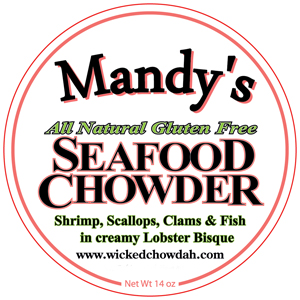 FISHWIVES SPECIALTY FOODS
Fishwives Specialty Foods produces Mandy's famous Seafood Chowdah — a light lobster bisque chock full of shrimp, scallops, clams, and fish. Busy families create amazing dinners by using our chowdah as a sauce for casseroles or pasta. Ask Mandy for her easy recipes. Try their chowdahs and refreshing GoSpacho — a cold, vegan Spanish soup in a bottle. Pop one into your lunch bag and enjoy a taste of the Mediterranean! Products are handcrafted using all-natural, gluten-free, locally sourced ingredients! Marblehead, MA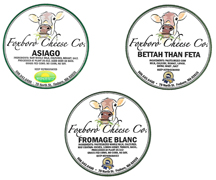 FOXBORO CHEESE
Lawton's Family Farm creates its Foxboro Cheese products from the milk of grass-fed cows. Because the cows eat no grain, the cheese is soy and corn free. Foxborough, MA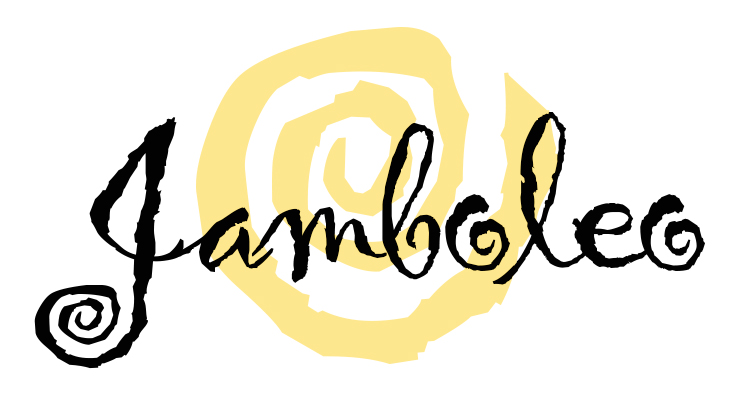 JAMBOLEO JAMS
Small-batch jams, jellies, and marmalades
Jamboleo jams, jellies, and marmalades are handcrafted in batches of 8–10 jars at a time in a permitted residential kitchen. Two essential flavors meet in every jar — one fruit, and one herb or spice. Our recipes feature a short ingredient list and no added pectin. The result is one irresistible blended flavor that is good enough to eat with a spoon! Arlington, MA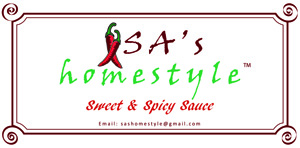 SA'S HOMESTYLE
Sa's Homestyle is the maker of Sa's Sweet and Spicy Sauce. Our magical sauces enhance the taste of anything they're put on. Versatile, it can be used as a dipping/finishing sauce, marinade, BBQ sauce/additive, or cooking ingredient. We offer the following varieties: X-Hot, Hot, Mild, and Mild w/ organic cider vinegar. These sauces have some warmth, but even our spiciest variety will not set your mouth on fire! Natick, MA

---
ARTISAN

JENNIFER'S HANDMADE SOAP
Jennifer's Handmade Soap makes vegetable-based soaps, using only natural oils from coconut, palm, castor seed, and avocado. These natural oils softly clean and moisturize your skin, leaving it feeling silky smooth and completely pampered. Concord, MA
PERFORMER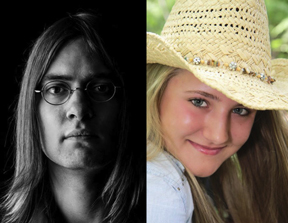 CAMERON SUTPHIN & MARY HASTINGS
Nashville recording artists Cameron Sutphin and Mary Hastings have performed their versions of country and folk music as the duo Cameron and Mary across the U.S. They started performing around New England 10 years ago with the country group Wing and a Prayer, and have since toured from Connecticut to Colorado and back. Transcending folk Americana, their music echoes inspiration from singer/songwriters like Bob Dylan, Leonard Cohen, and Neil Young, combining simple melodies and lyrical intensity. Enfield, CT
COMMUNITY TABLE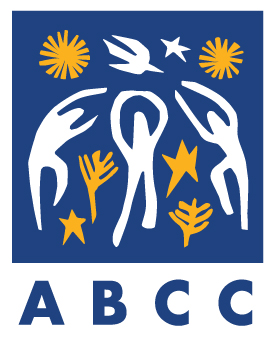 A-B CULTURAL COUNCIL
The Acton-Boxborough Cultural Council (ABCC) is one of 329 all-volunteer local cultural councils serving every municipality in Massachusetts. The legislature appropriates funds annually to the Massachusetts Cultural Council (MCC), which then allocates funds to local councils. Local councils use funding guidelines and priorities established by the MCC, and may add local guidelines and priorities as well. We then distribute these funds to support performances and cultural activities in and around our towns. Acton & Boxborough, MA 
www.ActonBoxboroughCulturalCouncil.org

---