Sunday, July 22:
Market Cancelled!
Sorry for the bad news! For only the second time in our 10-year history, we're cancelling market for tomorrow, July 22.

The weather forecast calls for thunderstorms starting at 9am and continuing all day. We operate in rain, but when there's thunder, it becomes a safety issue and we thought it best not to take risks.

See you on July 29 on Pearl Street!
---
ABOUT WHEELS TO MARKET DAY,
which was supposed to have been tomorrow.

We'll just do it next Sunday, instead!


WHEELS TO MARKET DAY!
Come to market free of fossil fuels!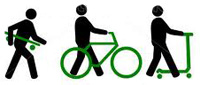 Next Sunday, July 29:
• come to the ABFM table to show us your wheeled transport
   (bike, scooter, skates, skateboard)
• park it at one of the bike racks at the West Acton Citizens' 
   Library
• collect your $2 Market Moolah and spend it with any ABFM 
   vendor SUNDAY ONLY!
(Offer good for the first 50 riders of such gizmos.) Wheels to Market Day: a win-win-win proposition, for you, for the environment, and for local farmers and producers!