Sunday, Aug. 28

10am–1pm
---
HIGHLIGHTED PARTNER OF THE WEEK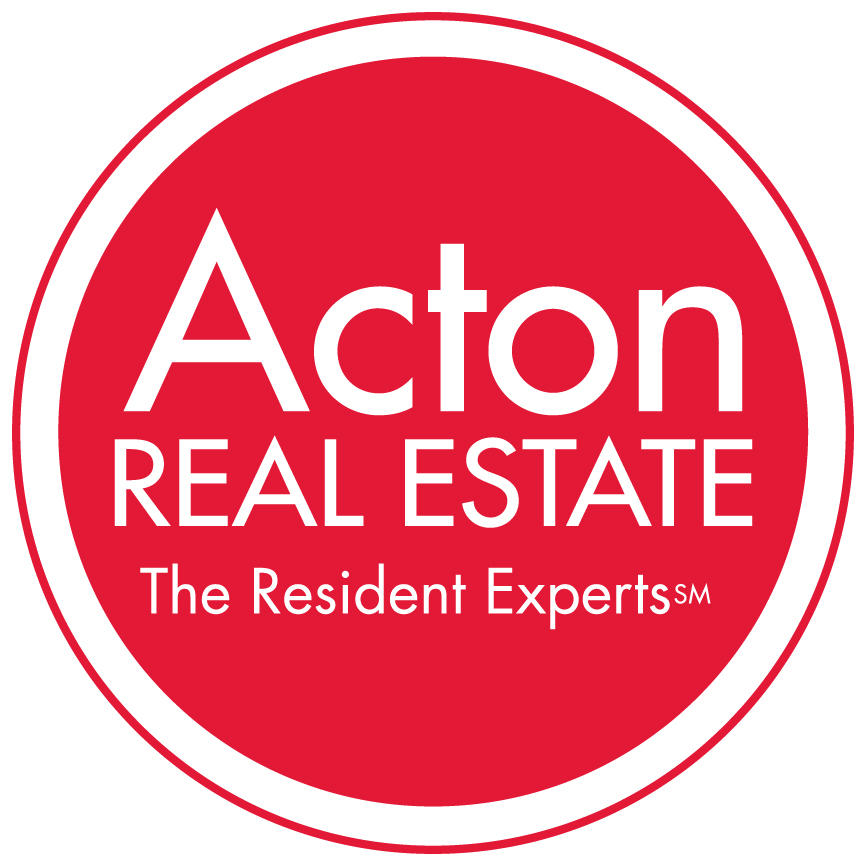 ACTON REAL ESTATE CO.
The resident experts.
Acton Real Estate Company is pleased to support the ABFM. Just like the farmers market, we draw our strength as a local business from having deep roots in the communities we serve. We encourage our agents to become involved in their towns, value continuing education and training, and build enduring relationships with their clients. Our efforts were honored recently by the Middlesex West Chamber of Commerce, who selected us the 2016 "Business of the Year."
525 Massachusetts Avenue #105, Acton
978.263.1166
Email: info@acton-realestate.com

---
2016 SEASONAL VENDORS
Applefield Farm • Bagel Alley • Couët Farm & Fromagerie • Dragonfly Farms • Flats Mentor Farm • Hapberly Farm • Lilac Hedge Farm • Mamadou Artisan Bakery • Mycoterra Farm • Samira's Homemade • Stillman Quality Meats • Town Farm Gardens • Valicenti Organico • Westward Orchards
LEARN MORE ABOUT THE ABFM 2016 VENDORS HERE.

---
SUNDAY'S ADDITIONAL VENDORS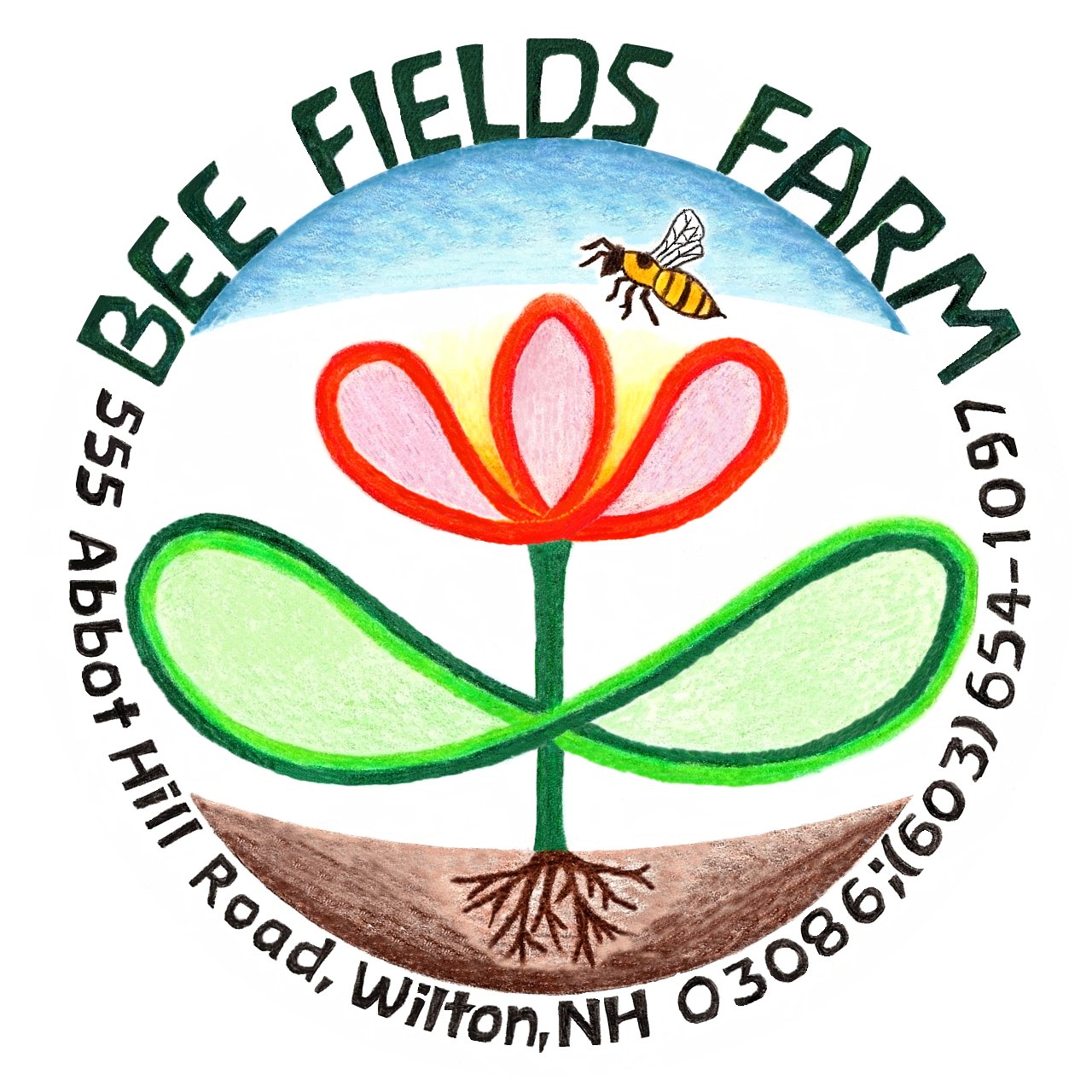 BEE FIELDS FARM
Bee Field Farm medicinal garden contains more than 100 different herbs. All the flowers and shrubs planted in our garden have been planted for their medicinal, edible, or pollination uses. We use organic and biodynamic gardening practices to enhance and enrich the fertility of our beautiful garden. Our preparation process is very simple: we harvest, strip, sort, clean, infuse, pour, pack, and label our products by hand. Wilton, NH



COASTAL VINEYARDS
Fine Creative Wines
We grow 12 different grape varieties on our 10-acre vineyard, producing white and red wines, most dry and some sweeter wines. Our varieties include Chardonnay, Pinot Gris, Pinot Noir, Riesling, Merlot, Cabernet Franc, Chambourcin, Marquette, and others.  All our wines are made in our farm winery in South Dartmouth. Please visit, tour our vineyard and winery, and (of course) taste our wines; the Tasting Room is open Fridays, Saturdays, and Sundays, noon–5pm. Dartmouth, MA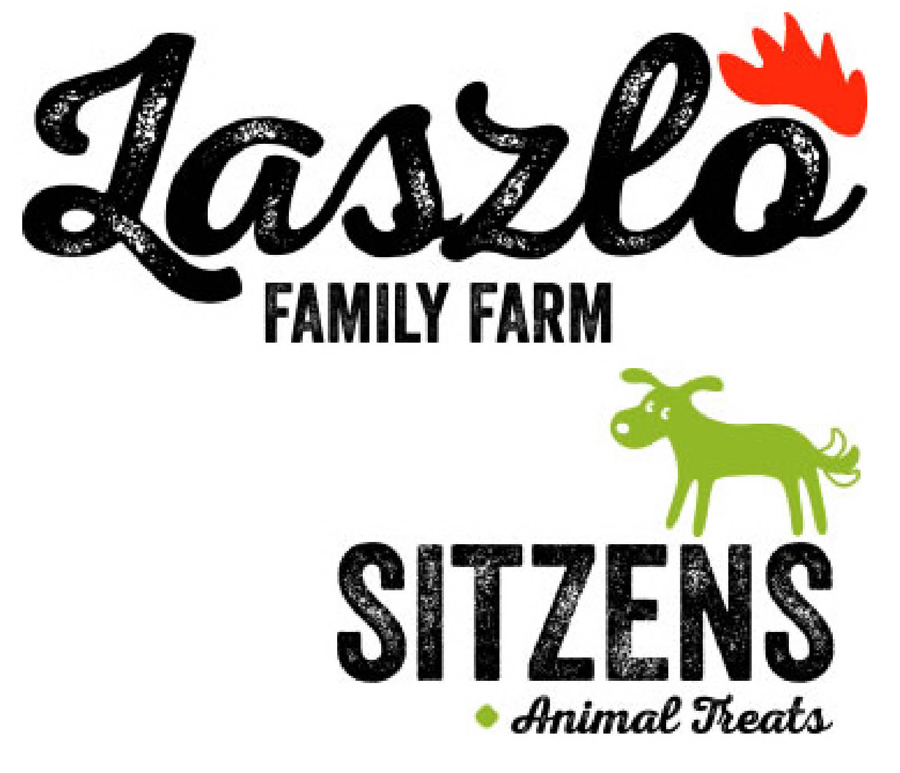 LASZLO FAMILY FARM / SITZENS ANIMAL TREATS
SITZENS Animal Treats are Farm-Direct! All ingredients are produced on our farm and/or sourced locally and regionally. Fed daily to our hard-working farm dogs, barn cats, and riding horses, all treats on our farm are baked, roasted, or smoked by Laszlo Farm and are preservative free. We offer biscuits, bones, training treats, and more. Every SITZENS treat purchase aids our continuing conservation of rare-breed livestock. Pets like local, too! Ashby, MA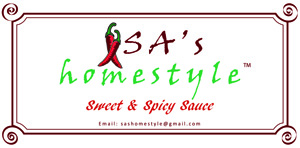 SA'S HOMESTYLE
Sa's Homestyle is the maker of Sa's Sweet and Spicy Sauce. Our magical sauces enhance the taste of anything, and can be used as a dipping/finishing sauce, marinade, BBQ sauce/additive, or cooking ingredient. We offer X-Hot, Hot, Mild, and Mild with organic cider vinegar. These sauces have some warmth, but even our spiciest variety will not set your mouth on fire! Natick, MA

---
THIS WEEK'S ARTISAN

(none this week)

UNDER THE PERFORMANCE CANOPY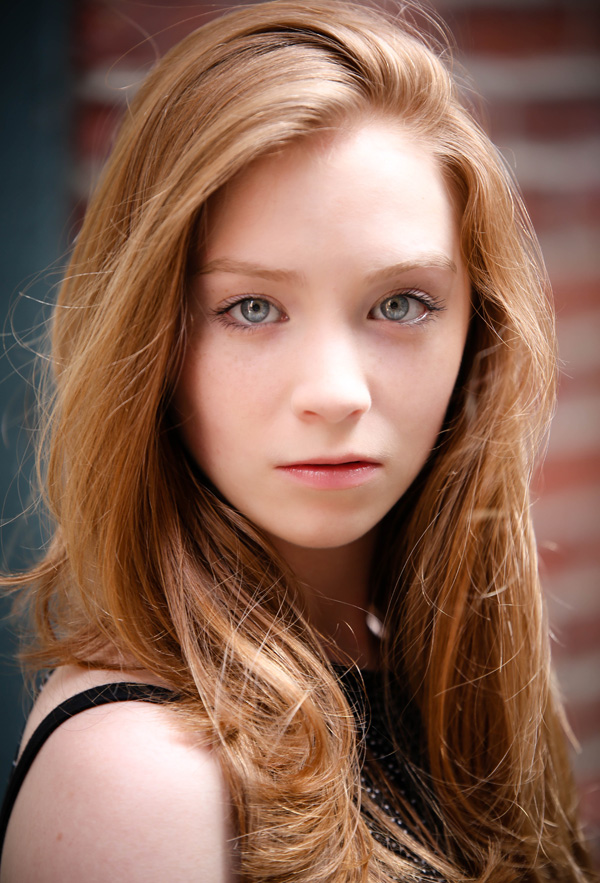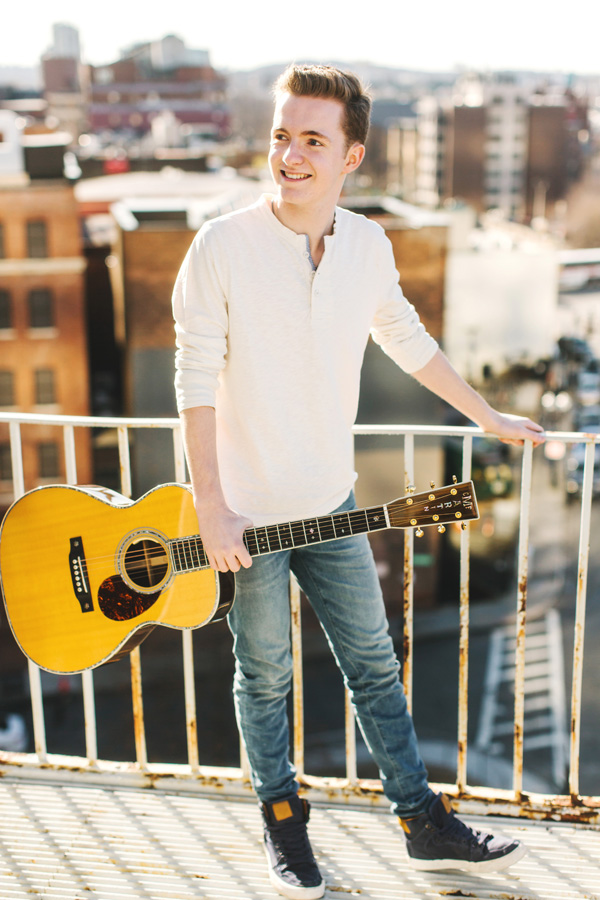 LAUREN WEINTRAUB & JIMMY CONNOR

Lauren, a 17-year-old singer/songwriter who plays guitar and piano, recently released her debut EP. She has performed at the Hard Rock Café (Boston), The Bitter End (NYC), and The Basement (Nashville), and is a regular at Faneuil Hall. Jimmy, a singer/songwriter/multi-instrumentalist, was named 2016's Most Promising Male Vocalist of the Year, Instrumentalist of the Year, and Male Entertainer of the Year by the North America Country Music Association, International. He performs at venues across New England and Tennessee. Jimmy recently recorded his first single in Nashville. Sudbury & Boxborough, MA
www.LaurenWeintraub.com • www.JimmyConnor.com


COMMUNITY TABLE


LEAGUE OF WOMEN VOTERS – ACTON AREA
Encouraging the Active and Informed Participation
of Citizens in Their Government
The LWV-AA is a nonpartisan, grassroots organization that supports and opposes issues, but not candidates or political parties. Our charter: to protect voters, educate/engage voters, reform money in politics, and defend the environment. Come visit us to learn more! Acton Area
---
Last Week's Cooking Demo . . .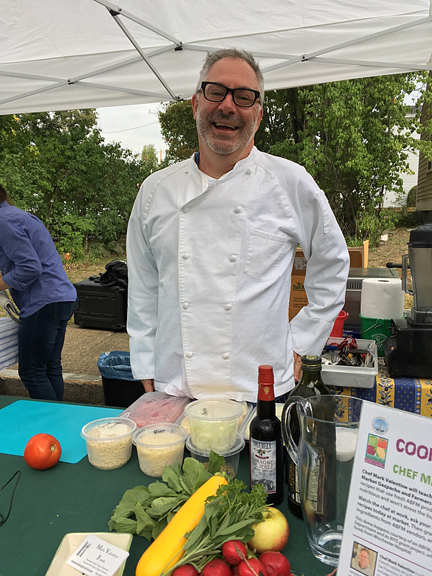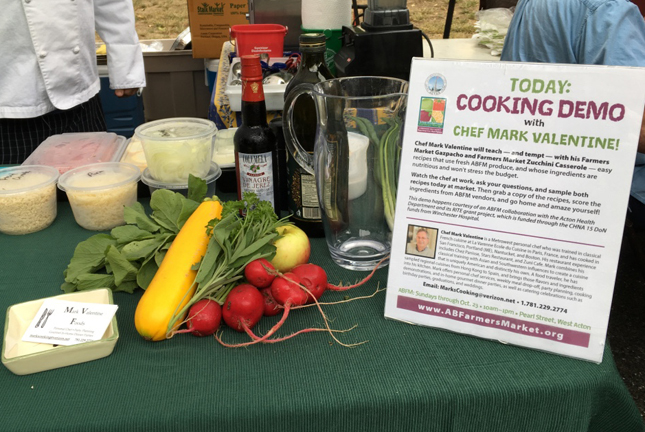 . . .  was terrific! Big thanks to Chef Mark Valentine for his excellent demo and delicious samples of his Farmers Market Gazpacho, Farmers Market Zucchini Casserole, and Farmers Market Fresh Salad. (All those recipes will soon be available here.) Chef Mark sourced many of his ingredients from ABFM vendors Applefield Farm, Dragonfly Farms, Flats Mentor Farm, Lilac Hedge Farm, and Stillman Quality Meats.
We also appreciate the enabling collaboration with the Acton Health Dept. and its RITE grant project, which is funded through the CHNA 15 DoN funds from Winchester Hospital.
---
We Can Never Say It Enough:
THANK YOU to our Wonderful ABFM Abutters
Big appreciation to the folks (individuals and institutions) that are the immediate neighbors of the ABFM. They could not be more accommodating, tolerant, and generous. Please thank them when you see them — the Spero, Friedrichs, and Watt families, the West Acton Citizens' Library, the West Acton Fire Station and staff, the owners of the parking lot (whose south end we spill onto), and the Christian Science Society. (And please, respect these folks' residential properties by not walking onto, and keeping dogs off of, their lawns and driveways.) Thank you!
---
2016 ABFM GROCERY TOTE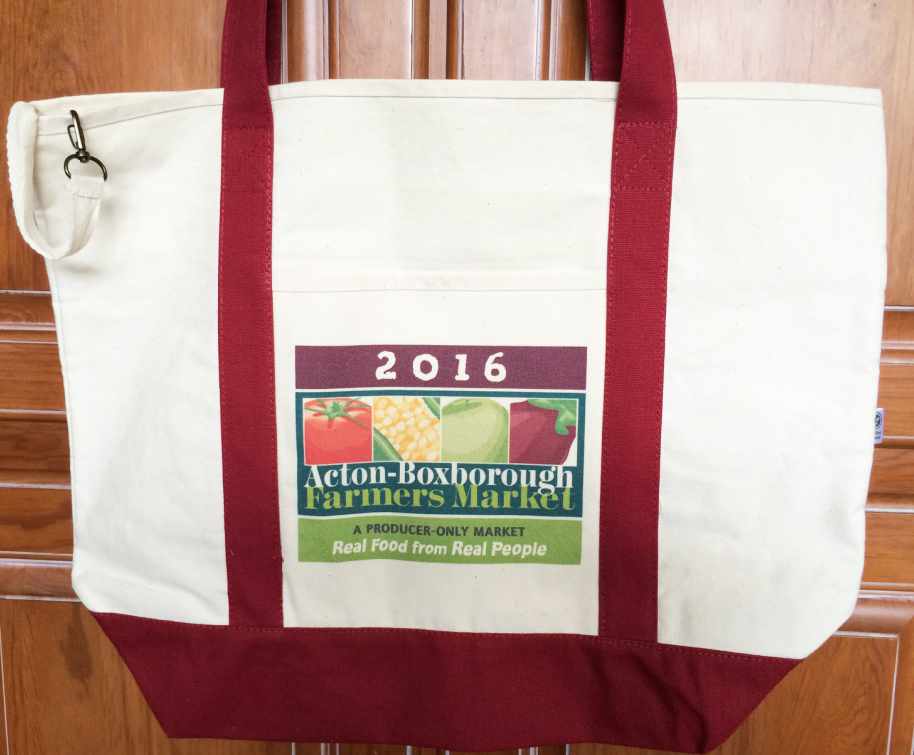 This bag is HUGE, durable, and gorgeous! Made from organic cotton canvas, this bag will stand up to any load or task. Its handles are sturdy and well reinforced, so go ahead and test it! One friend of the market uses it every day to schlep her lunch, extra shoes, book(s), sweater, umbrella, and we-don't-remember-what-else.
Don't wait until holiday season is upon us and they're all gone! Come see us at the ABFM stall at market. At $16 they're a great deal, given the size, quality, and organic cotton. (And between you and us and the wallpaper, that price is significantly less than it costs the ABFM to get them fabricated!)
---