Sunday, Aug. 14

10am–1pm

---
 HIGHLIGHTED PARTNER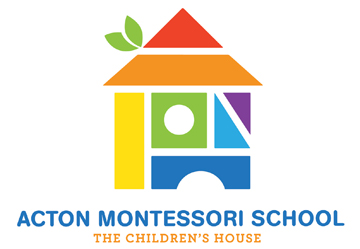 ACTON MONTESSORI SCHOOL
The Children's House

Where Children Build
Their Foundation for Success
We at Acton Montessori believe that a child's education is the most important investment a family can make. Our preschool is dedicated to providing the foundation for your child's success in life through a balance of socialization and academics. Our school's small and intimate environment and the excellent natural light in our open classroom nurture children's bodies and spirits. With years of Montessori teaching experience, our superb staff provides your child with the skills to grow into successful, independent thinkers.
537 Massachusetts Avenue, Acton
978.263.4333
Email: ActonMontessori@gmail.com
---
2016 SEASONAL VENDORS
Applefield Farm • Bagel Alley • Couët Farm & Fromagerie • Dragonfly Farms • Flats Mentor Farm • Hapberly Farm • Lilac Hedge Farm • Mamadou Artisan Bakery • Mycoterra Farm • Samira's Homemade • Stillman Quality Meats • Town Farm Gardens • Valicenti Organico • Westward Orchards
LEARN MORE ABOUT THE ABFM 2016 VENDORS HERE.

---
SUNDAY'S ADDITIONAL VENDORS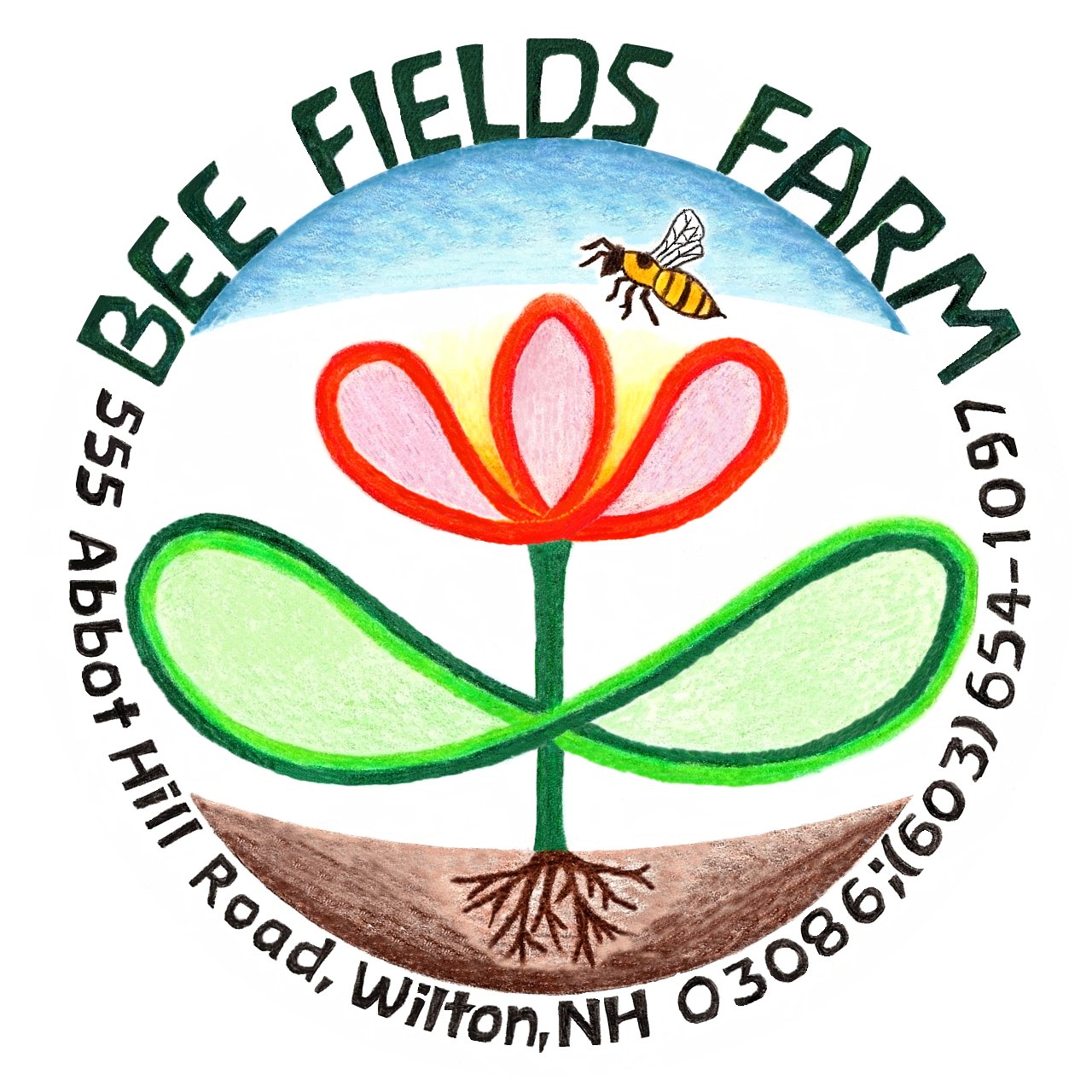 BEE FIELDS FARM
Bee Field Farm medicinal garden contains more than 100 different herbs. All the flowers and shrubs planted in our garden have been planted for their medicinal, edible, or pollination uses. We use organic and biodynamic gardening practices to enhance and enrich the fertility of our beautiful garden. Our preparation process is very simple: we harvest, strip, sort, clean, infuse, pour, pack, and label our products by hand. Wilton, NH



COASTAL VINEYARDS
Fine Creative Wines
We grow 12 different grape varieties on our 10-acre vineyard, producing white and red wines, most dry and some sweeter wines. Our varieties include Chardonnay, Pinot Gris, Pinot Noir, Riesling, Merlot, Cabernet Franc, Chambourcin, Marquette, and others.  All our wines are made in our farm winery in South Dartmouth. Please visit, tour our vineyard and winery, and (of course) taste our wines; the Tasting Room is open Fridays, Saturdays, and Sundays, noon–5pm. Dartmouth, MA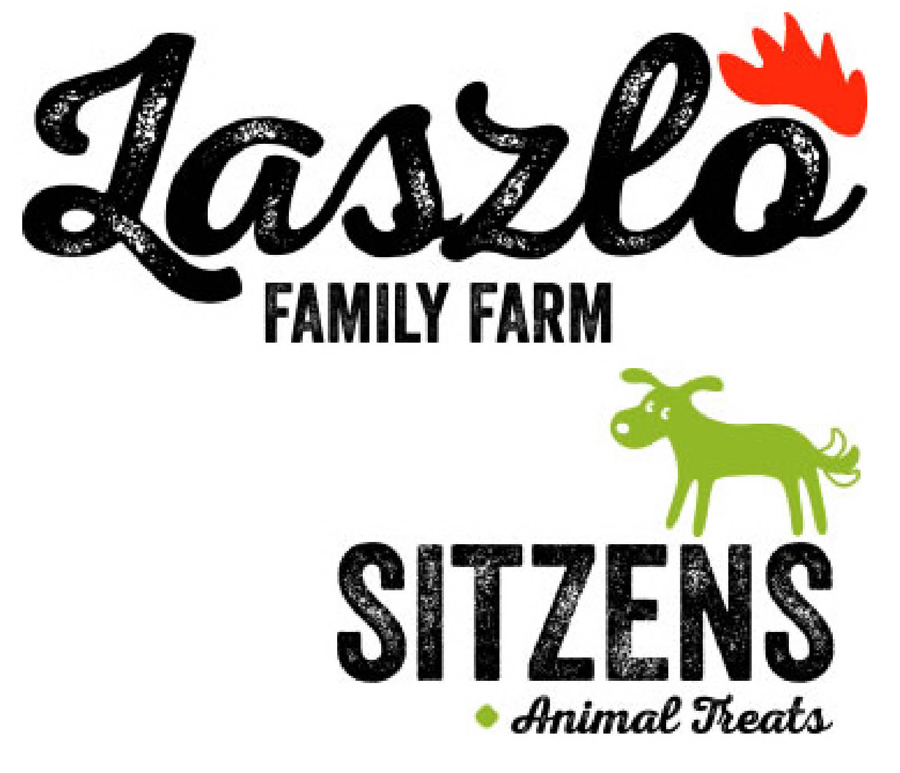 LASZLO FAMILY FARM / SITZENS ANIMAL TREATS
SITZENS Animal Treats are Farm-Direct! All ingredients are produced on our farm and/or sourced locally and regionally. Fed daily to our hard-working farm dogs, barn cats, and riding horses, all treats on our farm are baked, roasted, or smoked by Laszlo Farm and are preservative free. We offer biscuits, bones, training treats, and more. Every SITZENS treat purchase aids our continuing conservation of rare-breed livestock. Pets like local, too! Ashby, MA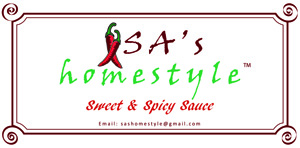 SA'S HOMESTYLE
Sa's Homestyle is the maker of Sa's Sweet and Spicy Sauce. Our magical sauces enhance the taste of anything, and can be used as a dipping/finishing sauce, marinade, BBQ sauce/additive, or cooking ingredient. We offer X-Hot, Hot, Mild, and Mild with organic cider vinegar. These sauces have some warmth, but even our spiciest variety will not set your mouth on fire! Natick, MA

---
THIS WEEK'S ARTISAN

FILE MODERN NOTES

Stephanie Johnson's notecards, made from recycled file folders, feature a unique variety of ink-stamped vintage and botanical images. Stephanie also offers bookmarks, made from recycled file folders, that feature hand-drawn ink and pencil design, and light-boxes made from repurposed electrical boxes, candles, and textiles. Acton, MA
Email: Stephaniepbj921@gmail.com


UNDER THE PERFORMANCE CANOPY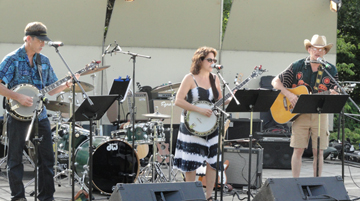 ONE GREAT ROAD
One Great Road is a trio of guitar, banjo, bass, and harmonica. They play traditional Americana — such as "King of the Road" and "Hey, Good Lookin'" — as and as folk, rock, and original songs. Acton, MA
---
ABFM 2016 GROCERY/TOTE BAGS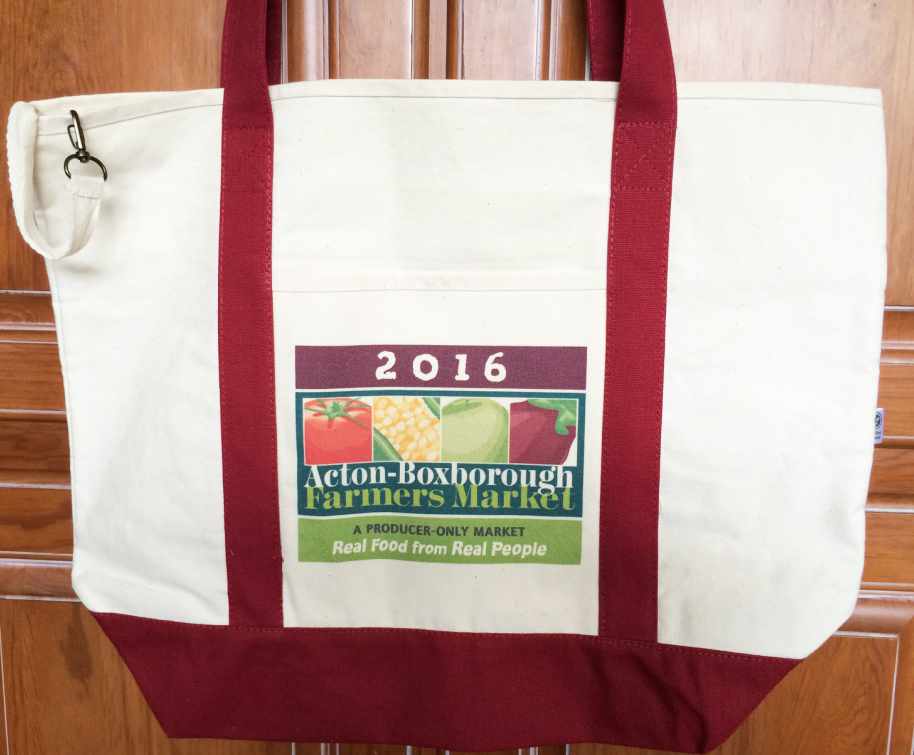 Everyone LOVES these bags! They're heavy, organic cotton canvas, incredibly roomy, and strong enough for the heaviest loads. The bags sport the ABFM logo on one side, and the names and logos of our eight 2016 ABFM Partners on the other. Get 'em — along with our (incredibly soft) ABFM organic T-shirts, and our recycled cotton ABFM task/kitchen aprons — at the ABFM stall at market!
---
WEST ACTON CITIZENS' LIBRARY BOOK SALE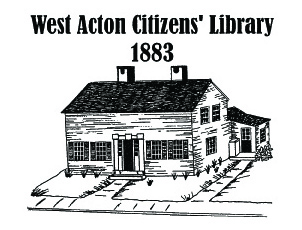 The West Acton Citizens' Library will be holding our monthly book sale on August 14, 10am–1pm. There will be thousands of books to choose from — new and used, children's and adult, hard cover and paperback, fiction and non-fiction. All books priced $.50 to $2.00, so stock up!
---
REASONS TO EAT LOCALLY GROWN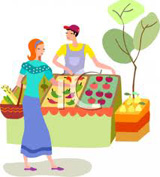 Week #8, from the Central Mass Grown 2016 Farm Products Guide, one of their list of 10 Good Reasons to Eat Locally Grown. [Our edits in brackets.]
Eight:
Local food [has] a lighter carbon footprint. On average, our food travels 500 [some studies say 1,500] miles from farm to plate. Moreover, each calorie of food produced requires an average of 10 calories of fossil-fuel inputs [for] travel, refrigeration, and processing. Purchasing locally grown food is a simple way to address the increasing expense of fossil fuels and the adverse effects of global warming from increased carbon emissions.
---