Sunday, Oct. 20

10am–1pm
______________________________________________________
LAST MARKET DAY (sniff) FOR 2013!
TWO GREAT EVENTS TO CLOSE THE SEASON:
JOSHUA and FLASH at ABFM




Joshua, a Dromedary camel, and his alpaca friend, Flash, will be at market courtesy of Tom and Ryan of Lilac Hedge Farm. Flash and a few llamas help protect the sheep flock, and Joshua does "camel cameos" at several events each year, including a fundraiser for Boston Children's Hospital. Find them on the lawn at the corner of Pearl and Central streets (and thank you to our ABFM abutters, the Watts!). Do not miss this!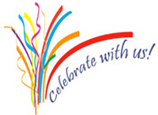 ABFM 5-YEAR ANNIVERSARY
(and season end)
CELEBRATION OPEN HOUSE
1:30–3:30pm at The Local Table, 251 Arlington Street

• Meet ABFM vendors
• Celebrate 5 seasons of great local food
• Enjoy treats (some using vendor products)
• Learn more about the ABFM
• Help thank volunteers and others who support the market
______________________________________________________
THANK YOU, THANK YOU!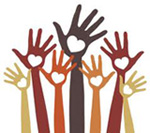 The ABFM Leadership Board extends its gratitude to the many people who help make the market happen: you, the market-goers, our Vendors, Partners, and Sponsors, and the volunteers who help this whole spectacle happen each week!
Our thanks also go out to:

Our abutters and neighbors, whose good humor and generosity allow the conduct of the market every Sunday: the Watt, Spero, and Friedrichs/Lenicheck families; the West Acton Citizens' Library; the Christian Science Society; Acton Pharmacy; Red, White, and Brew; and the West Acton Fire Station
Artisan Coordinator Dia Chigas; Community Table Coordinator Jennifer Campbell; Kids' Activity Coordinator Kennett Coleman; Performer Coordinator David Gerratt; and Volunteer Coordinator Helen Payne Watt
Market Managers Debby Andell, Kristi Twichell, Eleanor Chenevert, and Suzi Yarin; all our fabulous set-up and breakdown volunteers, most of whom are ABRHS students; and Publicity Volunteer Jude Aronstein
The Town of Acton, including the Board of Selectmen, Town Manger Steve Ledoux, Health Department Director Doug Halley and Health Agent Sheryl Ball, Municipal Properties Director Dean Charter, Highway Department staff, and WACL Director Jennifer Friedman
And FYI, the ABFM Leadership Board: Jennifer Taylor Campbell, Dia Chigas, Kennett Coleman, Amanda Jellen-Dumont, Debra Simes, Helen Payne Watt (and Rosie DeQuattro, member emerita)
______________________________________________________
ABFM TOTES, APRONS, AND T-SHIRTS
2013 ABFM totes on sale for $5!
Available Sunday at market!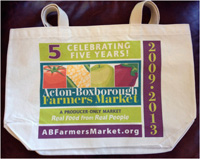 Check out our ABFM 5th Anniversary grocery/tote bag, our organic cotton ABFM T-shirts, our ABFM kitchen/task aprons, and ABFM Gift Certificates. You can never have too many canvas bags, and these will be gone soon. Our bags, T-shirts, and aprons make terrific gifts for family and friends. Bags are $12; aprons are $12; adult T-shirts are $15, and kid-sized shirts are $12. Find them at the ABFM stall at market.
ABFM bags, aprons, T-shirts, and Gift Certificates also make excellent items for auction baskets, employee gifts, etc. Inquire at market.
______________________________________________________
Do You Know . . .

about SNAP at the ABFM?
The ABFM is in its 3rd season of accepting SNAP (Supplemental Nutrition Assistance Program) funds for purchase of eligible foods at market. This year, use of SNAP benefits has grown noticeably. We are happy about this because it means that more people are able to secure fresh, nutritional foods for themselves and their families.
The ABFM sponsors a special offer for SNAP users: we'll double the value of (up to) the first $10 you spend in SNAP benefits at market. So if you decide to spend $15 at market, you'll actually get $25 to spend. This offer lasts until we distribute the allotted funds for the season. Please come to the ABFM stall at market for details.
______________________________________________________

"LIKE" US ON FACEBOOK!



______________________________________________________

SEASONAL VENDORS

APPLEFIELD FARM • BAGEL ALLEY • CLEARVIEW FARM • DEBORAH'S KITCHEN • DRAGONFLY FARMS • FLATS MENTOR FARM • LILAC HEDGE FARM • MAMADOU'S ARTISAN BAKERY • MONADNOCK BERRIES/HILL ORCHARD • SAMIRA'S HOMEMADE • STILLMAN'S FARM • STOW GREENHOUSES
Learn more about the ABFM 2013 Vendors here.


SUNDAY'S ADDITIONAL VENDORS



Bliss Bakery
Everyone Deserves a Little Bliss

Bliss Bakery is an artisan bakeshop specializing in handcrafted breads, pastries, and custom cakes. Choose from our wide selection of delicious baked goods made from scratch, using only the finest ingredients. Groton, MA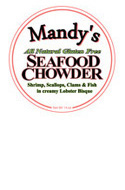 Fishwives Specialty Foods
Not for Wimpy Chowdaheads!
Mandy's offers handcrafted, all-natural, gluten-free seafood chowders and bisques, vegetable and fruit gazpachos, and dips and spreads. We source as much sustainable seafood from from New England as possible, and our gazpachos are made with produce from local farms. Marblehead, MA
www.WickedChowdah.com




Hames & Axle Farm / Surfing Goat Soap
Goat milk soaps are valued for their gentleness and hydration. Nigerian dwarf goat milk is extra-high in fats and protein, making for a luxurious bath experience. We use only natural ingredients — no artificial fragrances or unnecessary additives. Ashburnham, MA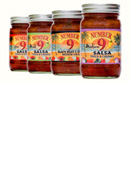 Paino Organics
Natural & Organic Foods
Paino Organics creates its Number 9 line of tortilla strips and salsas in nearby Concord. Each salsa variety is made with at least nine healthful vegetables, lime juice, and four or five varieties of peppers for well-rounded, and unique flavors. Paino salsas use no vinegar, added sugar, or fat, and are vegan, and wheat- and gluten-free. Concord, MA

Turtle Creek Winery
Classic Wines from Noble Grapes
Turtle Creek is a boutique winery, located in the shadow of Boston, producing only 1200 cases of world-class wine annually. Lincoln, MA

______________________________________________________
THIS WEEK'S ARTISAN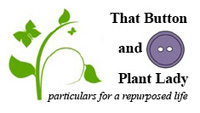 THAT BUTTON
AND PLANT LADY
That Button and Plant Lady creates one-of-a-kind necklaces, rings, earrings and bracelets made with antique and collectible buttons; decorative plantings in upcycled containers, including old cookware, serving trays, and china; and cross-body bags in a variety of sizes, hand-painted and in fine vintage fabrics, as well as made-to -order mini-sculptures based on photographs. Groton, MA
www.facebook.com/ThatButtonAndPlantLady

______________________________________________________
UNDER THE PERFORMANCE CANOPY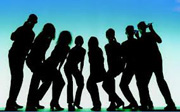 ABRHS A CAPPELLA
Acton-Boxborough Regional High School's a cappella groups offer selections from their repertoire, including contemporary pop and rock, oldies, and traditionals. Four ABRHS a cappella groups will perform: 13 Fish Named Jennifer, Cascade, Downbeat, and Masti (which covers South Asian and contemporary Western songs). Acton and Boxborough, MA

11am–12pm
______________________________________________________
COMMUNITY TABLE

SATSAC & TAC
The South Acton Train Station Advisory Committee (SATSAC) and Acton's Transportation Advisory Committee (TAC) share a stall
at market.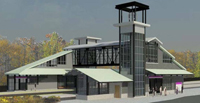 SATSAC details progress on the commuter rail station con-struction; provide a construction calendar; display and answer questions about the final station designs; and seek feedback on the station and its surrounds.
SATSAC email: satsac@Acton-MA.gov



TAC will offer updates on Acton's MinuteVan; share information about Cross-Town Connect, the new multi-town, public–private Transit Management Association that Acton and Boxborough have just joined; and announce TAC's new bicycling focus, as well as recruit a bicyclist member for the committee.
TAC email: tac@Acton-MA.gov

______________________________________________________
Closing the Loop . .

. Please bring to the ABFM table at market any (clean) containers you've acquired during your ABFM shopping, including green paperboard boxes, and paper and plastic bags. We'll make them available to our vendors for re-use when appropriate.


Come on down — for Real Food from Real People!