MARKET HOURS: 10am–2pm

---
ABFM HIGHLIGHTED PARTNER OF THE WEEK

Handworks Gallery has been in business for more than 30 years, presenting the work of talented local and national craftspeople making gifts of jewelry, pottery, wood, fiber, and metal.
161 Great Road (Rt. 2A)
Acton, MA 01720
P 978.263.1707
Email: handworksgallery@aol.com
• • • • • • • • • • • •
NEXT WEEK =
LAST 2010 MARKET DAY!
• • • • • • • • • • • •
Latin Lesson #2: Nota bene!*
ABFM BAGS ON SALE!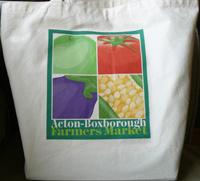 Who doesn't love a bargain? This week and next, stock up on these terrific bags for ONLY $5!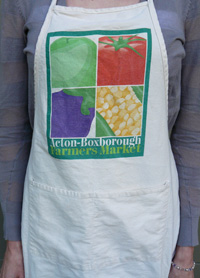 The Perfect Gifts: ABFM grocery/tote bags and kitchen/chore aprons! Beautiful, local, made from recycled materials, utilitarian . . . and you can't buy the wrong size! Bags: ON SALE: $5
Aprons: $12
See (and buy) them at the ABFM table at market!
* "Mark well"
• • • • • • • • • • • •

Closing the Loop . . .
Please bring to the ABFM table at market any (clean) containers you've acquired during your ABFM shopping, including green paperboard boxes, and paper and plastic bags. We'll make them available to our vendors for re-use when appropriate.
• • • • • • • • • • • •

To learn more about our vendors, performers, artisans, or community table organizations, please visit ABFarmersMarket.org.

---
PER-DIEM VENDORS
HAMES & AXLE FARM • Ashburnham, MA
Goat milk soaps have long been valued for their gentleness and hydration. Nigerian dwarf goat milk is extra high in fats and protein, making for a luxurious bath experience. We use only natural ingredients — no artificial fragrances and no unnecessary additives.

JOANNA'S NEW WORLD BISCOTTI • Westford, MA
Joanna's New World Biscotti is a small specialty bakery that produces handmade, preservative-free, gourmet-style biscotti, using eco-friendly packaging and as many locally sourced ingredients as possible.

PERFORMER
THE DAWN KENNEY BAND • Acton, MA
Bluegrass & Swing
The trio of veteran musicians brings bluegrass and dashes of swing on bass, guitar, and mandolin, with lead and harmony vocals. 11:15am–1pm

ARTISAN

KITTREDGE CANDLES • Andover, MA
Handmade 100% soy candles — jars, tins, votives, and novelty candles.
www.KittredgeCandles.etsy.com

COMMUNITY TABLE
UNTRASH ACTON / GREEN ACTON • Acton, MA
Tired of seeing trash on Acton's streets and byways? Help Untrash Acton by joining Acton citizens who pick up trash on their walks around town. Learn about Green Acton and Untrash Acton, and sign up to help!
www.GreenActon.org

kids' activity
TURKEY TIME! (Not that one . . .)
Turkey Time. Bird Feeders. Biodiversity. What do these have in common?
Just this: Kennett's "birdseed turkeys" are on the kids' menu today. (No, the kids won't eat them.) Children will create and decorate paper turkeys, fill them with birdseed, and learn about some endangered domestic turkey breeds, how they can be preserved, and why biodiversity is so important!


THANK YOU . . .
to the West Acton businesses that support the ABFM through provision of auxiliary parking each Sunday:
Carquest Auto Parts
Christian Science Society
Middlesex Savings Bank
Savoury Lane
. . . and the Town of Acton

WHILE YOU'RE AT THE MARKET . . .
Check out our education Topic of the Week board — always rich with information on food, agriculture, environment, and/or building sustainable communities.
AND
Please support the operation of the ABFM through purchase of our delightful and useful
ABFM BAGS & APRONS
& BUMPER STICKERS!

• • • • • • • • • • •
•
• • • • • • • • • • •
•
Come on down —
for Real Food from Real People!