NOV. 20 HOLIDAY MARKET!
10am–1pm
in The Gallery at Villageworks
525 Mass. Ave., West Acton
JOIN US for the first 2016 ABFM Holiday Market! Score winter provisions, foods for your holiday celebrations, and holiday gifts! And don't forget to pick up ABFM signature grocery totes, kitchen/task aprons, T-shirts, and ABFM Gift Certificates (in any amount) — all terrific for holiday giving. (Note: the price for our giant 2016 ABFM organic canvas tote will be reduced from $16 to $10!)
HOLIDAY TURKEY PRE-ORDERS:
NOTE: Two of our vendors are taking pre-orders for holiday turkeys. See options and ordering:
Lilac Hedge Farm: https://lilachedgefarm.wufoo.com/forms/2016-thanksgiving-turkey-form

Stillman Quality Meats: http://stillmanqualitymeats.com/thanksgiving
---
VENDORS

      

 

ACKERMANN MAPLE FARM

Maple syrup & products

        

BAGEL ALLEY

Many varieties of bagels

           

 

BEE FIELDS FARM

Herbs & herbal products

  

DRAGONFLY FARMS

Produce

          

 

FISHWIVES SPECIALTY FOODS

Chowdah!

      

HABIBI GOURMET

(formerly Samira's Homemade)

Egyptian & Lebanese foods

       

 

HAPBERLY FARMS

Flowers

          

 

HUNGRY BEAR FARM

Produce

           

 

LASZLO FAMILY FARM

Pet treats

       

LILAC HEDGE FARM

Meats and eggs

          


SARAH RAN AWAY
WITH THE SPOON

Baked goodies

      

 

SA'S HOMESTYLE

Sauces, mild to hot

           

 

STILLMAN QUALITY MEATS

Meats

             

 

SUNNY KNOLL FARM ALPACAS

Alpaca materials and products

         

 

TOWN FARM GARDENS

Jams, relishes, sauces, pickles

               

 

VALICENTI ORGANICO

Pastas & sauces

         

 

WESTWARD ORCHARDS

Fruits and produce
---
MAKE THE SEASON BRIGHTER FOR
OUR FRIENDS AND NEIGHBORS!
Please join the businesses of our host, Villageworks, in gathering food donations for the Acton Food Pantry. Bring your donations to market this Sunday, and look for the large donation box in The Gallery (or ask ABFM staff for the location). Thank you!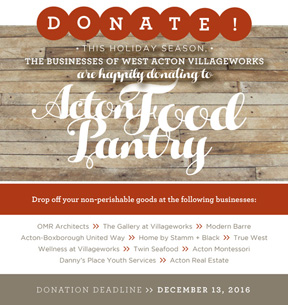 ---
The ABFM Operates on People Power
The ABFM exists because of our terrific vendors; the support of local businesses, organizations, and individuals; the help of Town of Acton and staff; and the hard work of volunteers.
We need your time and expertise to make this effort not only about buying good food and supporting local enterprises, but also, about community well-being and shared learning.
Want to help? Wonderful! Learn about:
• becoming a business/organizational Supporter here
• volunteering here
• offering ideas or suggestions here
 Or, just send a plain old donation to us at:
ABFM, 5 Duggan Road, Acton, MA 01720
THANK YOU SO MUCH!